XNUT-100
Embedded communication computer with Ethernet
End-of-life Notice
After many years in production we decided to consolidate our two XNUT offerings and to discontinue the XNUT-100 model.
---
Please consider the compatible
XNUT-105
instead! Given the source code and hardware compatibility between XNUT-100 and XNUT-105 it should be just a matter of re-compilation to migrate your application to our XNUT-105 module which is almost identical but has a different MCU and an additional CAN port.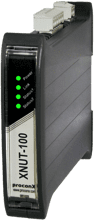 XNUT-100 is an Ethernet single board computer module with industrialized form-factor, DIN-rail enclosure and connectivity options like RS-232, RS-422 and RS-485 interfaces. A CAN version is available as XNUT-105.
XNUT-100 is based upon the AVR ATmega128 CPU as it's core and the free open source RTOS and TCP/IP stack Nut/OS.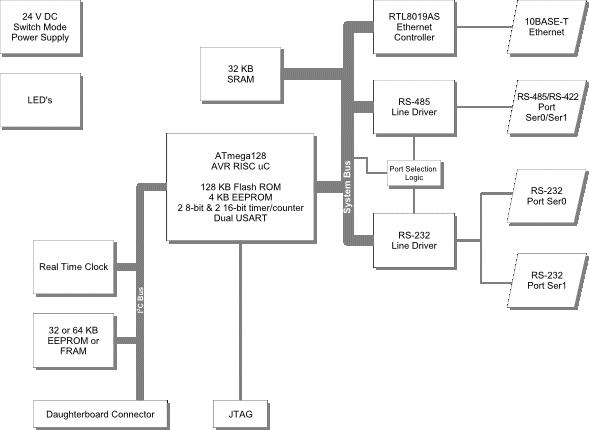 Datasheets
2 page datasheet of the <em>proconX XNUT-100</em> module
Manuals
Manual describing the hardware aspects of the <em>proconX XNUT-100</em> module
Introduction to the Nut/OS operating system (July 2009)
Software Tools
AVR-GCC compiler toolchain for XNUT-100/XNUT-105 version 20060421 (recommended version, compiles most compact code)
Free Tftpd32 utility by Ph. Jounin
Libraries & Operating Systems
Nut/OS Windows installer version 4.4.1
Nut/OS source tarball (Linux/Mac OS X/Free BSD) version 4.4.1
TFTP Ethernet bootloader for the XNUT-100/XNUT-105 modules version 1.1
Board support library for the XNUT-100/XNUT-105 modules version 1.0
Application Notes
Difference between the XNUT-100 & XNUT-105 and the Ethernut 1 Hardware
Installation of the AVR-GCC Compiler Toolchain
Installation of Nut/OS 4
Configuration and Compilation of Nut/OS 4
Programming the Nut/OS httpd Example Application
Fuse settings for the XNUT-100 and XNUT-105 CPUs
Applications are developed in the C programming language using the free AVR-GCC compiler toolchain on either Windows or Linux development hosts.
Nut/OS' architecture has been focused on portable standards. Developers with experience in C programming and TCP/IP applications for the PC will soon feel confident. Existing software can be adapted for Nut/OS with minimal effort.
The Nut/OS operating system offers a feature rich API including:
embedded web server
and a
RS-232 to Ethernet gateway
. '
Supported development tools
Nut/OS RTOS and embedded TCP/IP stack

XNUT Library for on-board hardware support

WinAVR gcc compiler and C run-time library

Ethernet TFTP bootloader

Optional AVRStudio IDE & source level debugger

Optional SPDuo low-cost JTAG programmer

Optional AVR JTAGICE mkII in-circuit JTAG programmer/debugger
Connectivity
Ethernet port (IEEE 802.3i 10BASE-T) with 8-pin RJ-45 socket

Two serial ports, software configurable as:

1 EIA-232-F DE9M port with EIA-574 DTE pinout and RD, TD, RTS, CTS, DSR, DTR⁠, DCD, RI signals

1 EIA-232-F DE9M port with EIA-574 DTE pinout and RXD, TXD signals

2 EIA-485-A 2-wire ports with A-,B+ signals

1 EIA-422-B port with RD+, RD-, TD+, TD- signals
CPU
Atmel ATmega128 RISC micro controller with Harvard architecture

14.7 MIPS processing speed

Programmable watchdog timer

Brown-out detection

Realtek RTL8019AS network interface controller

Two 8-bit & two 16-bit timer/counter

Optional battery buffered real time clock (RTC)

LED indicators for power, Ethernet link and two bi-color status

JTAG programming interface (IEEE 1149.1) with 10-pin header
Memory
128 KiB program memory

32 KiB static RAM for data

4 KiB EEPROM

optional 64 KiB EEPROM
Protection
10 kV ESD protection on RS-232/RS-485/422 ports

1.5 kV galv. isolation on Ethernet
Power requirements
10-30 V DC, 750 mW

30 mA typical @ 24 V DC
Environment
0 to 60 °C (32 to 140 °F) operating temperature

-25 to 85 °C (-13 to 185 °F) storage temperature, max. 70 °C if RTC is fitted

10 to 95% humidity, non-condensing

Free from corrosive gas, minimal dust
Form factor / enclosure
35 mm DIN rail mountable enclosure, self-extinguishing PC/ABS blend (UL 94-V0)

IP 20 / NEMA Type 1 protection rating

101 x 22.5 x 120 mm (3.98 x 0.886 x 4.72 in) w/ enclosure

0.12 kg (0.265 lbs)
Related Products
Features
Free Development Toolkit with compiler and debugger (open-source)
Free Real-Time Operating System with TCP/IP stack (open-source)
Ethernet port
RS-232, RS-485 and RS-422 ports
DIN Rail mountable
10-30 V DC power supply
Atmel ATmega128 CPU
Realtek RTL8019AS Network Interface Controller
128 KB Flash ROM
32 KB static RAM
Dual USART
Status LEDs
JTAG in-circuit programming & debugging port
Ethernut 1 hardware compatible