GCP-MG
Modbus gateway with Ethernet for Woodward GCP-30 genset controls and LS 4 controls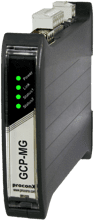 GCP-MG is a next-generation Modbus/CAN gateway specifically designed to interface Woodward's GCP-30 series genset controls (GCP-31, GCP-32), and LS 4 circuit breaker controls with Modbus networks. The GCP-MG gateway has been developed in cooperation with Woodward to ensure the highest possible degree of interoperability with Woodward equipment.
The gateway features CAN, serial RS-232 and RS-485 ports as well as an Ethernet port and can be mounted on a DIN rail. On the CAN side it implements the Woodward CAL protocol to connect to the GCP controls. On the serial ports and on Ethernet it implements a Modbus server (Modbus RTU and Modbus/TCP) and accepts connections from Modbus master devices like PLCs and SCADA systems.
Usage and configuration of the gateway is simple and conveniently performed using a web browser which connects to the embedded web server.
Common applications include:
PLC connection
Operator panel interfacing
HMIs
SCADA integration
Power station automation
Gen set control
Remote control & monitoring
Data logging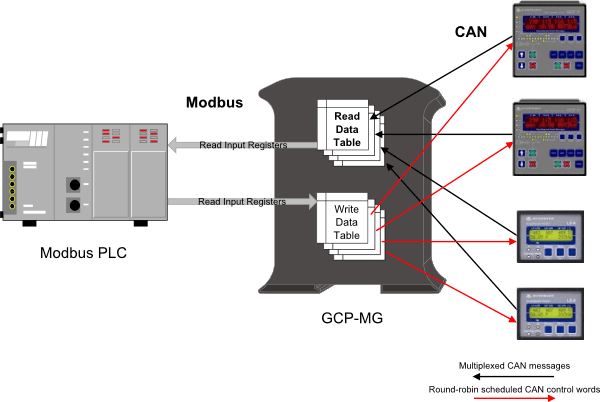 Datasheets
Two page data sheet
Manuals
Installation guide
User manual
Application Notes
Using the proconX GCP-MG Communication Gateway with the GCP-30 and LS-4 Controls
TFTP Firmware upgrade
Remote control with the GCP-MG
Interfaces

Ethernet

1

Serial ports

1 for Modbus (either RS-232 or RS-485, software configurable)
1 for diagnostics (RS-232)

CAN

1

User interface

LED indicators

Power (green), Ethernet link (green), 2 status (bi-color red/green)

Monitoring & configuration

Web browser based

Diagnostic

High availability features

Watchdog supervision, brown-out detection

CAN interface

Connector

male 9-pin D-sub, CiA DS-102 pin-out

Physical layer

ISO 11898

Isolation

non-isolated

Speed

125 kBit/s

Max. number of connected nodes

64

Protocols

CAL 2.0

RS-485 Modbus interface

Connector

3.81 mm 6-pin pluggable terminal block header

Physical layer

EIA-485-A, 2-wire

Isolation

non-isolated

Speed

300, 600, 1200, 2400, 4800, 9600, 19200, 57600, 115200 bps

Max. number of nodes

32

Protocols

Modbus RTU slave

RS-232 Modbus interface

Connector

male 9-pin D-sub, DTE, EIA-574 pin-out

Physical layer

EIA-232-F

Isolation

non-isolated

Signals

RXD, TXD, RTS, CTS, DTR, DSR, DCD, RI

Speed

300, 600, 1200, 2400, 4800, 9600, 19200, 57600, 115200 bps

Protocols

Modbus RTU slave

RS-232 diagnostic port

Connector

male 9-pin D-sub, DTE, EIA-574 pin-out

Physical layer

EIA-232-F

Isolation

n/a

Signals

RXD, TXD

Speed

9600 bps

Protocols

ASCII terminal

Ethernet port

Connector

8-pin RJ-45 socket for Cat 5 UTP

Physical & Data Link Layer Layer

IEEE 802.3i 10BASE-T

Isolation

1.5 kV galvanic

Speed

10 Mbit/s

Max. cable length

100 m (328 ft)

Ethernet frame types

802.3

Protocols

Modbus/TCP slave, HTTP, IP, TCP, ARP

Concurrent connections

2 Modbus/TCP, 2 HTTP

Power supply

Connector

3.81 mm 2-pin pluggable terminal block header

Voltage

10-30 V DC

Current

30 mA typical @ 24 V DC

Intrinsic consumption

750 mW

Electromagnetic compatibility

Emissions (radiated and conducted)

AS/NZS CISPR 22 / EN 55022 (Class A)

Immunity

EN 55024

Electrostatic discharge

EN 61000-4-2

Radiated RF

EN 61000-4-3

Fast transients

EN 61000-4-4

Conducted RF

EN 61000-4-6

Enclosure

Material

Self-extinguishing PC/ABS blend (UL 94-V0)

Mounting

35 mm DIN rail (EN 60715)

Classification / Type rating

IP 20 / NEMA Type 1

Cooling

Convection

Environmental

Operating temperature

0 to 60 °C / 32 to 140 °F

Storage temperature

-25 to 85 °C / -13 to 185 °F

Humidity

10 to 95% non condensing

Operating ambience

Free from corrosive gas, minimal dust

Physical

Dimensions

101 x 22.5 x 120 mm / 3.98 x 0.886 x 4.72 in

Weight

0.13 kg / 0.287 lb

Compliance

Australia

C-Tick

Europe

CE, RoHS

USA

FCC Part 15 (Class A)

Canada

ICES-003 (Class A)
proconX products can be ordered online from our web store:
Alternatively you can contact one of our distributors: